Last year I had the surprising pleasure of being asked to proofread two books. One was a thriller that was eventually serialised in an American magazine and the other was the heartwarming story of the K9 Project. The K9 Project, run by Chris Kent, uses an amazing team of rescue dogs to help people (with emotional difficulties, for example, or children who aren't benefiting from conventional...
Read More
Actually – it isn't all about rubber. It's about gaskets and foam too. SJG International produce rubber extrusions, gaskets and foam conversions. Being completely clueless about the subject matter, and with very little information to go on, this was a tough exercise in researching rubber extrusions and writing the copy from scratch. I may have complained about it at the time (it...
Read More
For the last couple of months, I've been writing the copy for the new Barclaycard global website. It won't be live until the end of January, but it's been a terrific project to work on. They really wanted an upbeat, positive, friendly tone of voice. They wanted to tell the story of Barclaycard and to show how their products make life easier for their customers – and their...
Read More
Bailey (chocolate lab) and Spur (recently rescued collie) had their pet portraits taken as a surprise for owner Nic's fiance. They were beautifully well behaved and Nic was really pleased with the photos. She even said it was the best invoice she'd ever had to pay! For just £60, I gave her more than a hundred pictures on disc. There are no copyright issues so she can print, use and...
Read More
We keep industry working – but what kind of person works for us? Electrocomponents, the parent company of RS Components, needed to refresh their careers website. It's a global organisation with offices across the UK, US, Canada, Asia Pacific and EMEA, so the website had to reflect the wide variety of roles and opportunities available all over the world. Firstly, I had to understand...
Read More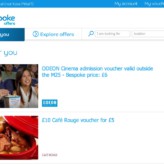 Since March this year, I've been working on a project for Barclaycard, writing offers for Barclaycard Bespoke. Bespoke is a targeted offers site, offering vouchers and discounts on products you're probably going to want. And they know this because they hold tons of data about what people buy. While it was great to get involved in a big project (and it's always nice to get out of...
Read More